This large open meadow building site at high elevation challenged our architects to consider immediate views, distant views, trees, foliage, winter winds, summer winds, and even a future neighbor when designing this one level custom modern home. The result is two opposing building site locations for this homeowner and the implications of siting the house differently at each location.
Meadowview
Preliminary Site Locations
Possible Views
Implications and Considerations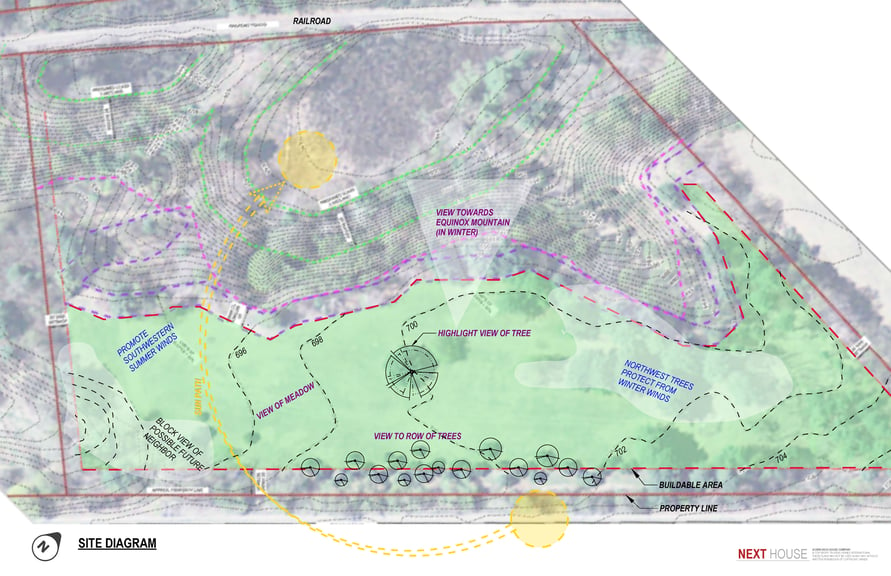 Site Locations: Option 1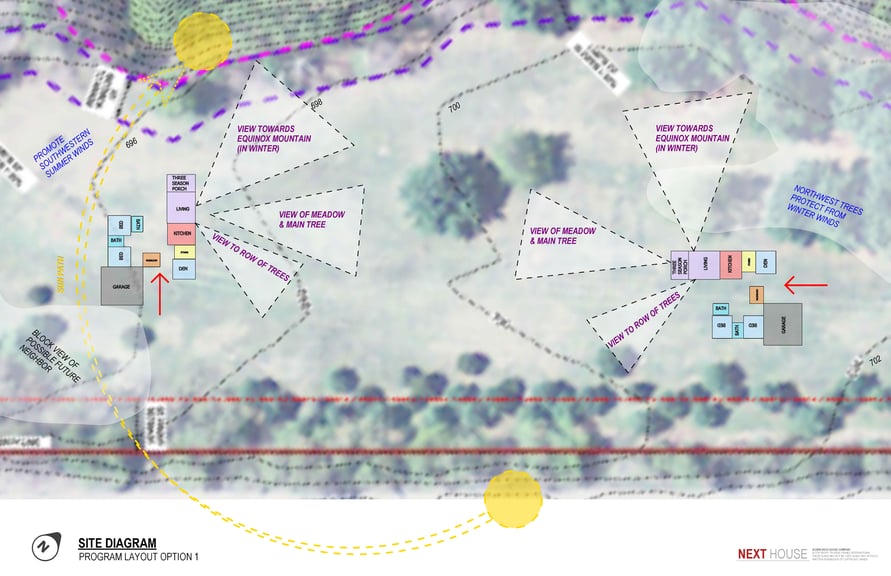 Architect Comments:
Split layout into two separate parallel bars with entry connector in between

Bedroom/garage bar (quiet spaces) and a public bar (kitchen/living with den off the front)

Spreading the program out allows us to get more light into more rooms (room to breathe)

Formwork

Separated the house into two main volumes, went with vernacular gabled roof strategy

Downhill Siting

Garage blocks future neighbors

Kitchen gets east light

Living gets east and west light as well as views to meadow, trees and mountain

Uphill Siting

Garage on north end doesn't steal natural light or views from main house

Beds get views of tree row

Kitchen and Living get all the views and light throughout the day
Site Locations: Option 2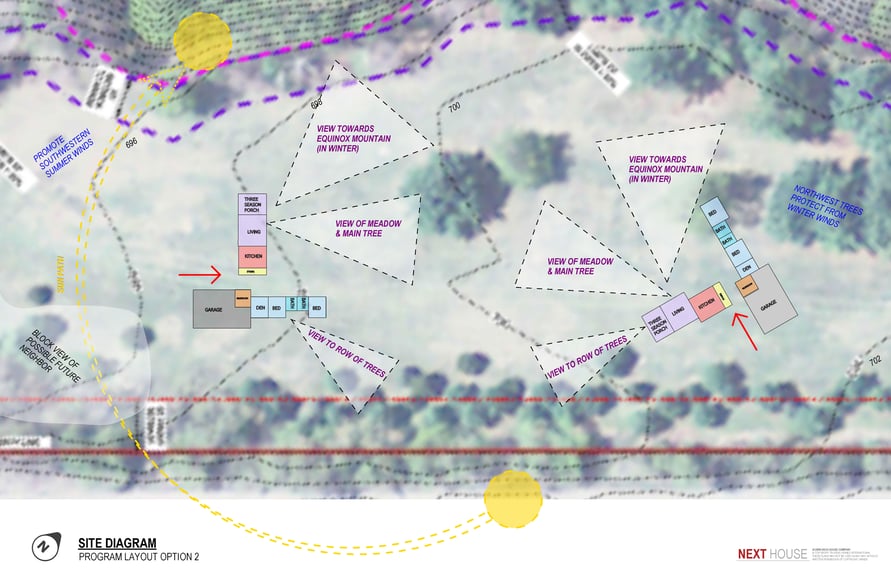 Architect Comments:
House is still separated in two bars, but now they run perpendicular to one another

Den is now with bedroom bar

Circulation path throughout house gives views (as you walk through the house you know your place on the land and can get many different vantage points as you go along)

Formwork

Kept with two gabled forms (living bar is steeper than bedroom bar)

Downhill Siting

Garage/bedroom bar blocks kitchen and living spaces from street

Bedrooms get morning light

Kitchen and Living get afternoon light and views

Uphill Siting

Beds are tucked into northern woods

Kitchen/Living bar gets all the views and light throughout the day
Like what you see?
Now could be the perfect time to begin designing your dream home. Start by laying out your ideas using our Wishlist Worksheet. Once you're ready, schedule a free consultation with one of our experienced professionals to take the next step and bring your dream home to life.