The location of your building site determines far more than just the setting where you will live. In fact, the unique topographical elements at that location will actually help to guide the design of your custom home. With the right considerations, and help from your trusted custom home design team, your new home can beautifully fit the character of the land.
Unique Benefits and Challenges of Each Property
Every site offers benefits and challenges unique to its topographical makeup.
Start by taking an objective look at your property to identify the elements that you would like to enhance and the ones that you'd rather detract from. Figuring out exactly what makes the site unique by looking at the trees, shrubs, waterways, rocks and other elements is both exciting and important. Envision where you think the driveway should go, and how you would arrange your garden beds around your home.
Openly communicate these thoughts with your design team to allow them to share in your vision; and be sure to hear their professional thoughts as well. When you and your team take the time to visualize the possibilities and challenges together, you can all move forward with confidence.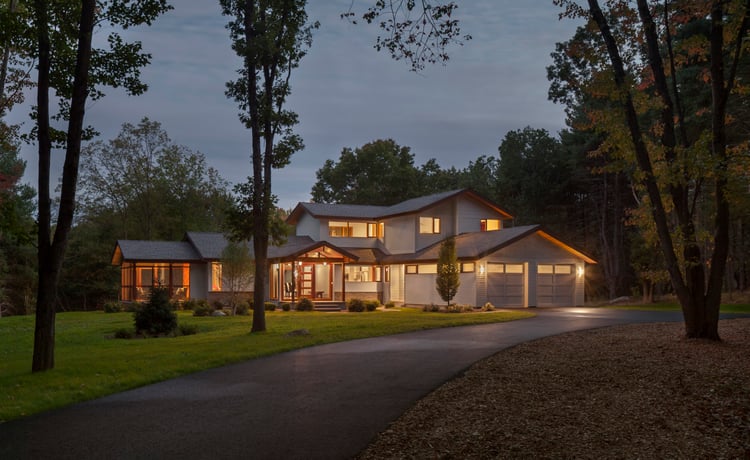 Considerations for Solar Orientation and Views
Your site's solar orientation and your desired views will both have a strong impact on your home's design and its ideal positioning.
Through the artful use of overhangs and site positioning, your design team is able to take advantage of the sun's path for passive heating and cooling. This means that through its design, your home will maximize not only natural lighting but also natural heating in the winter and cooling in the summer.
Your team will also design around your site's aesthetic characteristics. For properties with an amazing singular direction view, the home's position may favor having the prominent windows, porches and balconies facing that way; likewise, walls, fireplaces and smaller windows can help reduce less desirable views like roadways or neighboring houses.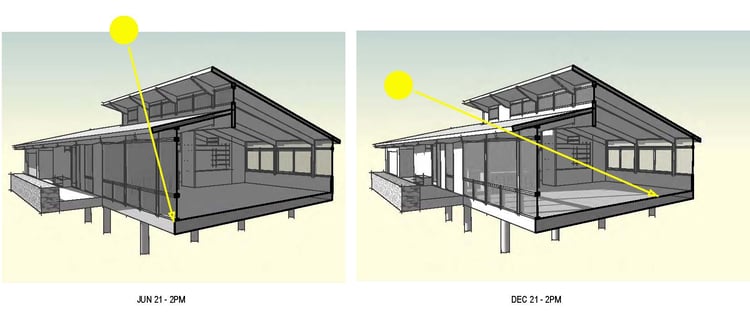 Topographical Roadblocks and Enhancements
The topography of your custom home building site directly influences the placement and design of your residence. Topographical roadblocks and enhancements alike can add challenges to the design process, though it is possible to harness those elements to work in your favor.
A small cliffside, for example, offers opportunities to skillfully nestle the home around this element, but may impact the size and positioning of your home. Ponds, wetlands and other natural waterways may limit the placement of your custom home, but also increase the aesthetic value of your landscape. You can work with your custom home designer to find thoughtful ways to incorporate any interesting topographical elements into the house design.
Next Steps
Ready to start planning how your custom home will interact with your site? Schedule a consultation to speak with a staff member or download our eBook to find out more about our process.