How long should it take to build my own custom home?
What is the most direct line between you and your new home? A predictable timeline, of course.
When considering a custom-built home, owners can be tempted by enticingly short deadlines. Be wary of companies promising "construction without the waiting." These may not be custom homes at all, but simply pre-drawn plans.
Paying close attention to customer input at every stage and delivering innovative custom designs, efficient construction and a controlled budget cannot be rushed. With 70 years of experience, Acorn Deck House Company has this process down to a predictable science.
How long does it take to build a custom home? The answer is unique to each experience, and the time frame comes down to the size and complexity of the home, the conditions of the building site and at what time of year the home is being built.
Project Managed
Any new venture needs a dependable project manager to ensure success. As an Acorn Deck House client, you will work with a dedicated Project Director who is there to guide you and answer your questions throughout the process, from beginning to completion, on a reliable timeline.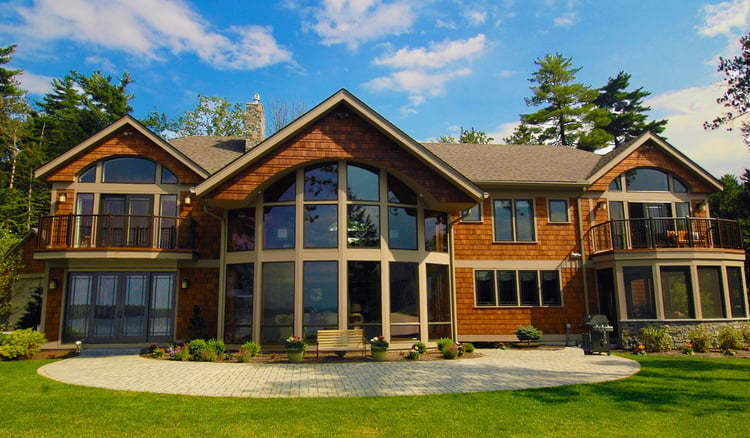 The Journey
The journey to an Acorn Deck House home begins with your ideas and wish list, and a detailed site analysis.
You and your Project Director (PD) will have in-depth discussions in order to determine your wants and needs. Your PD will also analyze your site and explore how its natural features can relate to the design:
views,
solar orientation,
topography,
natural vegetation, and
zoning or building restrictions, such as setbacks and easements.
From the very beginning, we respect your desire to control costs and will provide detailed estimates every step of the way.
Design
The design phase is where your ideas begin to take shape. Our in-house design department turns your vision into a one-of-a-kind home design. Our team delivers stunning presentations with 3-D visualizations to bring your inspiration to life.
At this stage, you will continue to review plans as we make necessary revisions based on your feedback. This is also the point when your builder will typically join the process. Your PD will liaise with an Acorn Deck House-trained builder, or provide an orientation program for the builder of your choice. Your builder will begin to obtain permitting for the project, explain the construction phase and inform you of building conditions that may affect the timeline.
Once the design and the pricing have been finalized, a locally licensed structural engineer stamps the construction drawings. After that, our Design Department carries out the panelization process—the construction drawings are digitally broken down and labeled into individual components.
Acorn Deck House Time Savers
We fabricate the Component Package simultaneously with builders' foundation and site work
Pre-cut and pre-assembled
Component Package can be manufactured in any season
Components are designed and crafted to fit together fast and accurately
Floor systems engineered for utility installation with minimal on-site cutting
After panelization, the design enters our factory for fabrication. Acorn Deck House packages include all of the materials required to create a weathertight shell along with the specialty millwork used in the interior.
Proprietary, Hand-Crafted, and Top-Quality Millwork
Mahogany entry doors
Mahogany windows and sliding glass doors
Magnificent stair and rail systems
Trim styles
Millwork from industry-leading manufacturers
Builder's Phase
After being fabricated in our climate-controlled factory, we ship your Acorn Deck House package to be assembled and finished by your builder on site. Each package arrives "just-in-time," in accordance with your builder's schedule, in a number of deliveries based on the project size, to avoid future components being stored on site and subject to weather exposure.
Your builder and building subcontractors will complete:
Foundation, site work
On-site assembly and framing
All mechanical systems
Sheetrock
Insulation
Painting
Cabinetry
Countertops
Appliances
Tile
Finish floors
Lighting
Landscaping
Georgia Deck House owners Bob and Anne Pledger remember their construction experience, "Watching the framers put in the cedar decking for the ceiling of our Deck House was an amazing experience. It was at that moment that we realized how awesome our house was going to be."
By the end of the Acorn Deck House Company process, owners have a home that has emerged naturally from their land as if it had always been there. And, like the Pledgers, your future home will become your "favorite place to be."
Ready to take the next step? Let's review your timeline. Contact Us.
Still have questions?
We'll lay out what you should expect at each stage of the custom home building process. Download our free eBook.