An excellent custom home design starts with asking important questions that zero in on your needs and wants as a homeowner. From there, your custom home building team can work with you to acquire the information that best answers your key questions and create the custom home design that will fit you and your family's lifestyle.

Here are 10 questions you should consider before jumping into the process of crafting a purpose-built custom home.
What practical considerations need to be addressed before beginning the design?
Before beginning to design your dream home, you must determine whether your budget and timeline supports a custom home. There are many factors to consider – land cost, site work, design, spacial needs, material options and more. Expectations must be discussed upfront with your trusted Project Director to ensure feasibility.
How should we position our new home?
Ensure that your one-of-a-kind home always takes full advantage of all the best views your property has by doing a thorough land and site analysis. Always strive to align the windows, porches and balconies with the optimal viewpoints that allow you to easily take in the best sights around your home.
How can we take advantage of the sun's warmth and light?
The best designers use the sun's path to its fullest by harnessing the power of passive solar warmth and natural light in the wintertime while providing shade and cooling benefits in the summertime. Proper positioning of your home helps take full advantage of the benefits the sun provides and reduces utility bills while supporting an eco-conscious lifestyle.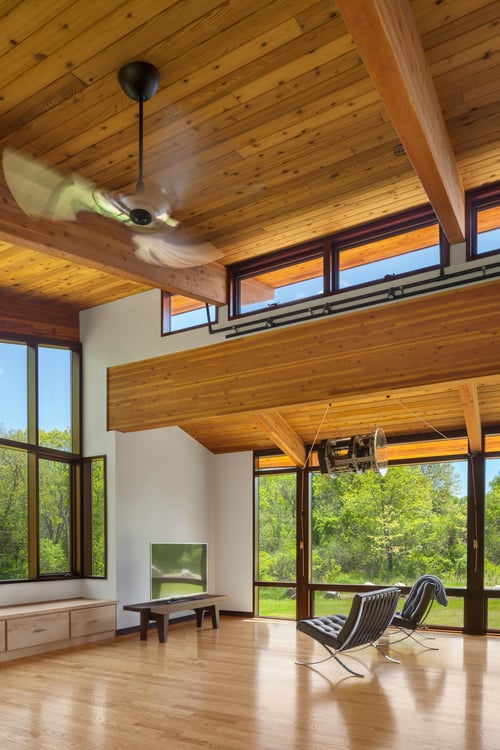 Can we use the land for framing or to benefit the home design?
Analyzation of the topography of your land is an essential factor in the design of your home and how it is best incorporated with the unique qualities of your property. You want the land to naturally frame your house and walkways for artful positioning of your dwelling and its decorative elements.
How can we preserve the existing vegetation and incorporate natural boundaries?
Look at the existing trees and vegetation during the design process to see how to preserve those landmarks and utilize the natural boundaries formed by the land. By taking this approach, you can nestle your custom home into the landscape to create a beautiful fit and finish.
How will any setbacks and easements affect the building envelope?
The building envelope is the physical separator between the interior and exterior of a building. Components of the envelope typically include the walls, floors, roofs and fenestrations. To avoid complications during the build process, look at your site's setbacks and easements to define and work within the building envelope. As a result, this will assure work stays within local building regulations to help streamline the build process from beginning to end.
How can the home design support our lifestyle?
Make sure that trusted Project Director is asking you the questions that identify the elements that best support your current lifestyle. He or she needs to understand how you spend your time at home, whether you regularly entertain guests and if you have regular long-term visitors, as one example. Your answers lead the design process and makes sure that your home is constructed with the rooms and elements that best support your needs.
Where can we incorporate convertible elements to support future lifestyle changes?
Lifestyles have a tendency to change through the years, try to determine how you can integrate convertible elements into the home design so that any changes down the road are made easier. Consider how a nursery can easily convert into an office space, for example. Customize your home now with consideration toward supporting your future plans.
How can you support your family dynamic using design techniques?
Make sure your Project Director assesses how your family comes together at home to determine the boundaries inside and outside your home. Consider whether your family frequently spends their free time together or apart to create the most effective custom home design possible.
What unique features and spaces can be included in the design?
If you have art collections or space-intensive hobbies, strive to support those endeavors with innovative interior and exterior elements. You can add custom spaces and features that you can use for these activities, now and in the future, by assessing your needs and wishes during the design process.
In the end, creating a custom plan you feel excited about building and is uniquely suited to you is always the primary goal. When you're ready to proceed with the custom home creation process, consider downloading our eBook on building custom homes, and go into the process well-informed and prepared.