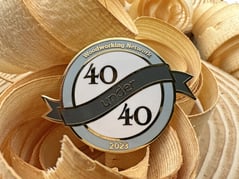 "This year marks the eighth annual awarding of the 40 Under 40, which celebrates the next generation of industry professionals who are making an impact on North American wood products manufacturing, design, sales, services and education.

"We are again proud to celebrate the commitment to excellence portrayed by some of the youngest, best, and brightest contributors to the woodworking industry in North America. This year's team of honorees will join 282 alumni who have been recognized with this distinction in the past," said Tim Fixmer, president and CEO of CCI Media, the parent of Woodworking Network.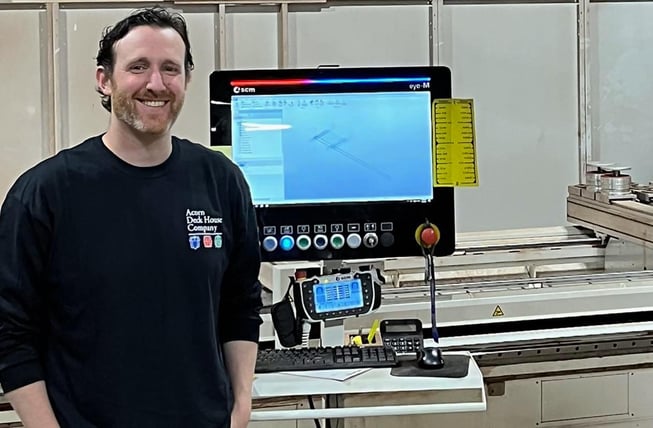 In his triple-duty role as Panelization/Manufacturing manager, CNC programmer and architectural designer, Steven Levine, 34, has advanced and streamlined the process at Acorn Deck House.

At the Acton, Massachusetts-based custom homes prefabricator, Levine helped spearhead the transition from 2D AutoCAD building component drawings into 3D framing models. "Making this jump has eliminated much of the need for by-hand design, drafting, annotations, and revisions," he says. "3D modeling/framing allows us to automate and optimize component design and increase accuracy and efficiency by a huge percent." The panelization process for a large house has been reduced from over a month to just two weeks, "with much higher accuracy and nearly no mistakes down the road."

Also, in his role as a CNC programmer, Levine revamped existing programs to increase efficiency and minimize labor requirements for every program/product run and helped "re-invent' the mahogany windows designed and crafted by Acorn so they can be made in any configuration imaginable. At Acorn, Levine also is involved in architectural design.

Levine's efforts extend beyond the immediate workplace. "I've also had the chance to help mentor/teach a recent high school graduate who was unsure of what he wanted/could do for his future," and assisted in getting him a job in the industry.
"I'm also working on a program to work with a local technical high school to link students with Acorn Deck House to have regular factory tours and learning opportunities for classes and intern opportunities, with the hope of full-time employment after graduation.
Learn More About The Process of Building an Acorn Deck House
A completely custom home designed to your specifications, fabricated off-site, keeps the building noise to a minimum without compromising on design details, scale and layout. Our goal is to allow you to take advantage of all the best benefits of prefab design, while not limiting your dream home design.

Download our Process Overview PDF to see each phase of our streamlined building process.
Download The Acorn Deck House Building System pdf
Once you're ready, schedule a free consultation with one of our experienced professionals to take the next step and bring your dream design to life.