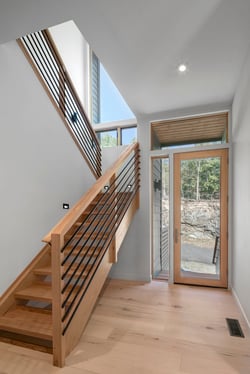 Location: Winchester, MA
Finished Square Footage: 2,776
Number of Bedrooms: 4
Number of Bathrooms: 3.5
Inspired by a Scandinavian design movement from the early 20th century, this custom home is characterized by simplicity, minimalism, and functionality. Built in a residential area, in what many would have considered an unbuildable lot, this home sits 60 feet above the road, and offers breathtaking seasonal views of the Boston skyline. Designed with the latest in energy efficient technology, this home received a HERS Index Score of -7. Design and prefabrication by Acorn Deck House, on-site build by Top Notch Contracting.
See complete project photos of The Summit
Take the Next Step
Custom additions, fabricated off-site, keep the building noise to a minimum without compromising on design details, scale and layout. Our goal is to allow you to take advantage of all the best benefits of prefab design, while not limiting your dream home or addition design.
Download The Acorn Deck House Building System pdf
Get our Process Overview PDF to see each phase of our streamlined building process.
Once you're ready, schedule a free consultation with one of our experienced professionals to take the next step and bring your dream design to life.